Vancouver, British Columbia / February 1, 2021 – Usha Resources Ltd. ("USHA" or the "Company") (TSXV: USHA) (OTCQB: USHAF) is pleased to provide an update on the Nicobat Nickel-Copper-PGE Project ("Nicobat" or the "Property"), located in Dobie Township, Northwest Ontario.
The Property is being explored for nickel-copper-platinum-palladium mineralization in the Archean-age calc-alkalic Alaskan-type, zoned and concentric Dobie Ultramafic to Mafic Intrusive. Previous drilling has identified a number of 'high-grade shoots' within a large body of disseminated sulphides and historical drill hole A‐04‐15 intersected from the surface, down plunge, to 63.75 meters averaging 1.05% nickel and 2.18% copper (note that the true width of A‐04‐15 is materially narrower than the drill hole intersection).
A total of 1,439 metres of diamond drilling was recently completed in 7 holes, all with NQ diameter core as part of its maiden drill program at the Property. USHA's drilling intersected a potential magma conduit composed of cumulate textured olivine gabbro with disseminated, net-textured to massive sulphide Cu-Ni mineralization. Wide mineralized intervals from 25 metres to 46 metres were intersected and consisted of disseminated blebs to semi-massive sulphides hosting pyrrhotite and pyrite plus chalcopyrite and trace pentlandite.
HIGHLIGHTS
Drill hole A20-12 intersected 46 metres (150.9 feet) of disseminated to strongly interconnected sulphides in an olivine cumulate, starting at 64 metres.
Where drill hole A‐04‐15 drilled subparallel to the plunge of the feeder conduit, all but one of the A20 holes drilled across the conduit confirming its substantial width and exploration potential.
The 2020 Nicobat drill program tested 120 m of strike length, the near surface expression, of a 550 metres long plunging magma conduit that exists on the Property.
Based on the drilling completed to date, the mineralized conduit unit appears to be plunging to the northeast at -45°. Additional drilling is required to extend the plunge of the mineralized unit and test the potential to host semi-massive to massive Cu-Ni mineralization.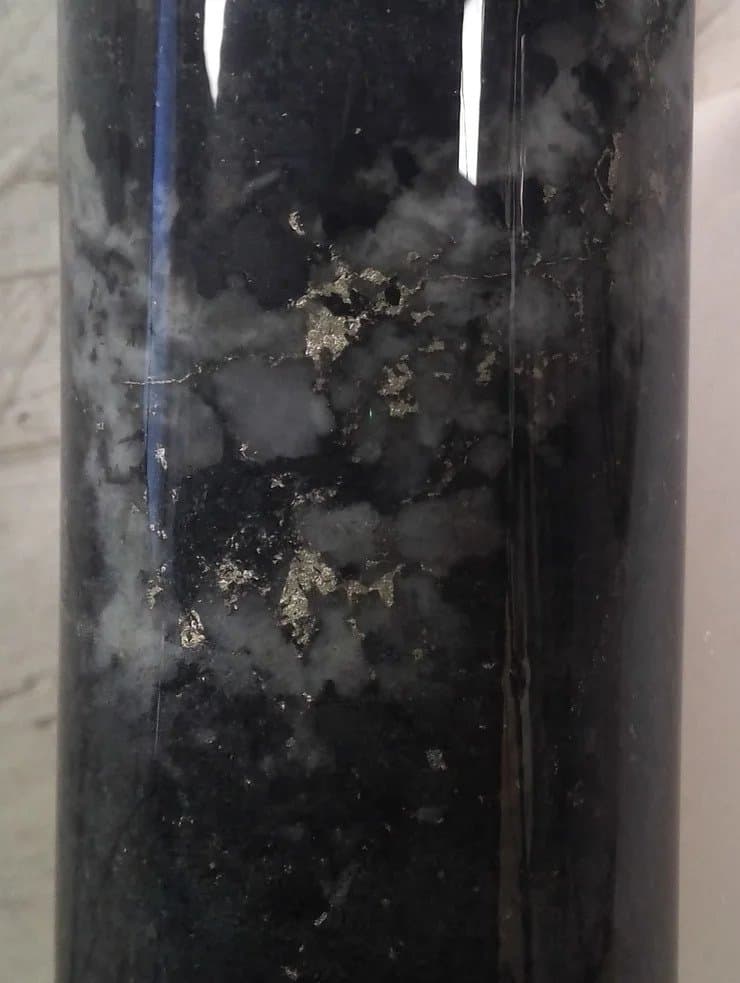 "We are pleased with the results of our initial program at Nicobat," said Deepak Varshney, CEO of USHA. "These new drill holes are in an area that to date has been underexplored. The geology shows a strong potential for high-grade nickel-copper mineralization and our program has successfully defined the near-surface geometry of the plunging mineralization. Going forward, we plan to use the results of this program to continue to explore the potential high-grade mineralization in the vicinity of A-04-15 and we are motivated more than ever to demonstrate to everyone the potential we see in the Nicobat Property."
USHA's planned next steps at Nicobat are to complete detailed ground magnetic surveys and a soil sampling program before commencing its follow-up drill program in Summer 2021.
Qualified person
The technical content of this news release has been reviewed and approved by Mr. Andrew Tims, P.Geo., a qualified person as defined by National Instrument 43-101 Standards of Disclosure for Mineral Projects.
About Usha Resources Ltd.
Usha Resources Ltd. is a Canadian mineral acquisition and exploration company based in Vancouver, BC, Canada. Usha is exploring for commercially exploitable mineral deposits and is currently focused on deposits located in Northwest Ontario, Canada and the Lost Basin Gold Mining District in Mohave County, Arizona, U.S.A. Usha increases shareholder value through the acquisition and exploration of quality precious and base metal properties and the application of advanced state-of-the-art exploration methods. Usha's portfolio of strategic properties provides diversification and mitigates investment risk.
We seek Safe Harbor.
USHA RESOURCES LTD.
"Deepak Varshney" CEO and Director
For more information, please phone 778-899-1780, email info@usharesources.com or visit www.usharesources.com.
Neither TSX Venture Exchange nor its Regulation Services Provider (as that term is defined in policies of the TSX Venture Exchange) accepts responsibility for the adequacy or accuracy of this release.
Forward-looking statements:
This news release includes "forward-looking information" under applicable Canadian securities legislation. Such forward-looking information reflects management's current beliefs and are based on a number of estimates and assumptions made by and information currently available to the Company that, while considered reasonable, are subject to known and unknown risks, uncertainties, and other factors that may cause the actual results and future events to differ materially from those expressed or implied by such forward-looking information. Readers are cautioned that such forward-looking information are neither promises nor guarantees and are subject to known and unknown risks and uncertainties including, but not limited to, general business, economic, competitive, political and social uncertainties, uncertain and volatile equity and capital markets, lack of available capital, actual results of exploration activities, environmental risks, future prices of base and other metals, operating risks, accidents, labour issues, delays in obtaining governmental approvals and permits, and other risks in the mining industry.
The Company is presently an exploration stage company. Exploration is highly speculative in nature, involves many risks, requires substantial expenditures, and may not result in the discovery of mineral deposits that can be mined profitably. Furthermore, the Company currently has no reserves on any of its properties. As a result, there can be no assurance that such forward-looking statements will prove to be accurate, and actual results and future events could differ materially from those anticipated in such statements.