Vancouver, British Columbia / November 8, 2023 – Usha Resources Ltd. ("USHA" or the "Company") (TSXV: USHA) (OTCQB: USHAF) (FSE: JO0), is pleased to announce that, subject to the final approval of the TSX Venture Exchange (the "Exchange"), the Company has closed its non-brokered private placement of $595,000 through the issuance of 5,950,000 units (each a "Unit") at $0.10 per Unit (the "Private Placement").
No finder's fees were paid in connection with the private placement.
Each Unit consists of one common share (a "Share") of the Company and one transferable common share purchase warrant exercisable at $0.20 per Share for a period of two (2) years from the closing date (the "Closing Date") of the Private Placement. The Company intends to use the net proceeds from the Private Placement for exploration activities on the Company's properties in Nevada and Ontario and for general working capital. All securities issued are subject to the Exchange Hold Period and a four-month and one day hold period pursuant to securities laws in Canada expiring on March 4, 2024 and March 7, 2024.
"Having a fortified balance sheet is critical to the success of every company. With over $1.7 million in working capital, USHA is in a position to accelerate our planned drill programs at Jackpot Lake and White Willow," said Deepak Varshney, CEO of Usha Resources. "With work also proceeding on our secondary listing on the Australian Stock Exchange, we believe we have some very significant catalysts coming over the coming months and look forward to providing updates as we progress towards these milestones."
White Willow Update
The Company is pleased to announce that fieldwork at its White Willow Lithium Pegmatite Project ("White Willow" or the "Project"), located 170 km west of Thunder Bay, Ontario, has successfully identified additional drill targets at the Bingo lithium-cesium-tantalum (LCT) pegmatite swarms, with the primary dyke swarm expanded to potentially over 1.8 kilometers in strike length. The combination of highly evolved geochemical indicators (Nb/Ta, K/Rb ratios; Ta, Rb, Cs, Li abundances), prospective mineralogy (including white beryl and Nb-Ta oxides) as well as field textures (replacement textures, strong planar fabric) indicate a fluid-rich and highly fractionated dyke swarm that has a strong potential to be spodumene‑bearing.
The Company now intends to continue beyond the planned six (6) weeks of fieldwork for Phase 3 to further maximize the mapping, sampling and prospecting that can be completed prior to initiating drilling.
Assay highlights to-date include:
Lithium oxide (Li2O) values up to 0.5%, with 76 samples containing very anomalous (>300 ppm) concentrations of lithium, including 14 above >1,000 ppm with a sample of the host rock which assayed 1,300 ppm indicating significant lithium-rich fluids are present within the system.
Cesium (Cs) values up to 1,730 ppm, with 71 samples containing very anomalous (>100 ppm) concentrations including 10 which are >500 ppm, indicating the samples are being collected from the outer zone of a fertile LCT system, which is where spodumene, if present, will be identified.
Tantalum (ta) values up to 120,000 ppm Ta, with 82 samples containing very anomalous (>30 ppm) concentrations including 35 which are >60 ppm, indicative of the presence of a spodumene-bearing pegmatite.
Of note, a high-grade showing of 14.64% Ta2O5 is present at the Maple Leaf Dyke; coarse-grained tantalite is only known to be found at one other locality in Ontario which is the North Aubrey pegmatite at Green Technology Metals (GT1) Seymour Lake Project where GT1 has identified a 9.9 Mt resource at 1.04% Li2O.
Rubidium values of up to 3,540 ppm, with 94 samples containing very anomalous (>1,000 ppm) concentrations including 24 >2,000 ppm.
Geochemical assessment also indicates the strong potential for spodumene-bearing dykes to be present at the property. Per Selway et al., potassium/rubidium ratios (K/Rb), are a key tool in identifying these types of dykes; K/Rb ratios of <30 are indicative of rare-earth pegmatites and <20 of spodumene-subtype pegmatites. To-date, 10 pegmatites have been identified with K/Rb ratios <30 with a low of 7.5. Values below 10 are often associated with economic spodumene pegmatites.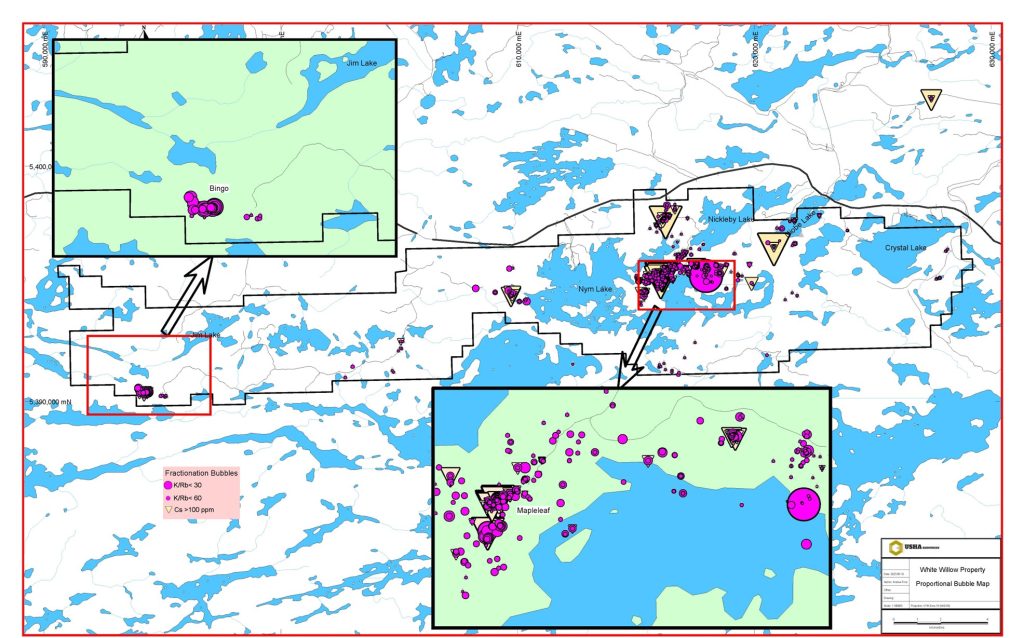 Figure 1 – Bubble plot of K/Rb ratios for the White Willow project. The Maple Leaf and Bingo Pegmatite Dike Swarms contain highly evolved LCT-pegmatites with excellent geochemical (low K/Rb and Nb/Ta ratios) and mineralogical (spessartine garnets, blue-green apatite, lithium amphiboles) indicators to be potentially spodumene bearing.
Quality Assurance/Quality Control
All collected rock samples were put in sturdy plastic bags, tagged, and sealed at site. Sample bags were then put in rice bags and kept securely before being sent by road transport or delivered by the crew supervisor to either AGAT Laboratories Ltd. or Activation Laboratories in Thunder Bay, Ontario. All samples are analyzed with Four-Acid Digestion/Combined ICP-AES/MS package (49 elements). The QA/QC protocol included the insertion and monitoring of appropriate reference materials, in this case high concentration and low concentration certified OREAS and CDN lithium standards to validate the accuracy and precision of the assay results.
Qualified person
The technical content of this news release has been reviewed and approved by Mr. Andrew Tims, P.Geo., a qualified person as defined by National Instrument 43-101.
About Usha Resources Ltd.
Usha Resources Ltd. is a North American mineral acquisition and exploration company focused on the development of quality lithium metal properties that are drill-ready with high-upside and expansion potential. Based in Vancouver, BC, Usha's portfolio of strategic properties provides target-rich diversification and includes Jackpot Lake, a lithium brine project in Nevada and White Willow, a lithium pegmatite project in Ontario that is the flagship among its growing portfolio of hard-rock lithium assets. Usha trades on the TSX Venture Exchange under the symbol USHA, the OTCQB Exchange under the symbol USHAF and the Frankfurt Stock Exchange under the symbol JO0.
USHA RESOURCES LTD.
For more information, please email info@usharesources.com, or visit www.usharesources.com.
Neither TSX Venture Exchange nor its Regulation Services Provider (as that term is defined in policies of the TSX Venture Exchange) accepts responsibility for the adequacy or accuracy of this release.
Forward-looking statements:
This news release may include "forward-looking information" under applicable Canadian securities legislation. Such forward-looking information reflects management's current beliefs and are based on a number of estimates and/or assumptions made by and information currently available to the Company that, while considered reasonable, are subject to known and unknown risks, uncertainties, and other factors that may cause the actual results and future events to differ materially from those expressed or implied by such forward-looking information. Readers are cautioned that such forward-looking information are neither promises nor guarantees and are subject to known and unknown risks and uncertainties including, but not limited to, general business, economic, competitive, political and social uncertainties, uncertain and volatile equity and capital markets, lack of available capital, actual results of exploration activities, environmental risks, future prices of base and other metals, operating risks, accidents, labour issues, delays in obtaining governmental approvals and permits, and other risks in the mining industry.
The Company is presently an exploration stage company. Exploration is highly speculative in nature, involves many risks, requires substantial expenditures, and may not result in the discovery of mineral deposits that can be mined profitably. Furthermore, the Company currently has no reserves on any of its properties. As a result, there can be no assurance that such forward-looking statements will prove to be accurate, and actual results and future events could differ materially from those anticipated in such statements.
The securities referred to in this news release have not been, nor will they be, registered under the United States Securities Act of 1933, as amended, and may not be offered or sold within the United States or to, or for the account or benefit of, U.S. persons absent U.S. registration or an applicable exemption from the U.S. registration requirements.
This news release does not constitute an offer for sale of securities for sale, nor a solicitation for offers to buy any securities. Any public offering of securities in the United States must be made by means of a prospectus containing detailed information about the company and management, as well as financial statements.