Vancouver, British Columbia / March 16, 2023 – Usha Resources Ltd. ("USHA" or the "Company") (TSXV: USHA) (OTCQB: USHAF) (FSE: JO0), a North American mineral acquisition and exploration company focused on the development of drill-ready battery and precious metal projects, is pleased to announce that, subject to approval of the TSX Venture Exchange (the "Exchange"), due to investor demand it has increased the size of its non-brokered private placement (the "Private Placement"), as previously announced on March 3, 2023. The Company now proposes to issue up to 9,230,769 units (each a "Unit") at $0.325 per Unit for total gross proceeds of up to $3,000,000.
Each Unit will consist of one common share (a "Share") of the Company and one transferable common share purchase warrant exercisable at $0.50 per Share for a period of three (3) years from the closing date of the Private Placement.
Finder's fees may be payable in accordance with Exchange policies. The Company anticipates using the proceeds from the Private Placement for exploration activities on the Company's properties in Nevada and Arizona and general working capital.
Subject to compliance with applicable regulatory requirements and in accordance with National Instrument 45-106 – Prospectus Exemptions ("NI 45-106"), the securities will be offered for sale to purchasers resident in Canada and/or other qualifying jurisdictions pursuant to the listed issuer financing exemption under Part 5A of NI 45-106 (the "Listed Issuer Financing Exemption"), as well as other available exemptions under NI 45-106. The securities to be issued pursuant to the Listed Issuer Financing Exemption will not be subject to a hold period pursuant to applicable Canadian securities laws, except for the Securities to be issued to directors, officers, promoters, consultants, insiders and other persons whose shares will be subject to the hold period required by the Policies of the Exchange. Securities to be issued pursuant to the other available exemptions are subject to a hold period.
There is an offering document related to this Private Placement that can be accessed under the Company's profile at www.sedar.com and at www.usharesources.com. Prospective investors should read this offering document before making an investment decision.
Final Option Payment
The Company is also pleased to announce that it has issued 654,070 common shares (the "Shares") at a deemed price of $0.344 per Share to Ares Strategic Mining Inc. (the "Vendor") based on the Company's 10-day VWAP as of March 8, 2023.
The issuance of the Shares to the Vendor represents the final payment required pursuant to the option agreement dated March 17, 2022, as amended, (the "Option Agreement") entered into with the Vendor for the acquisition Jackpot Lake, located in Clark County, Nevada. With the full payment of the option now complete, the Company is the legal and beneficial owner of the Vendor's 100% interest in the Property.
The Shares are subject to a hold period of four months and one day. The Shares issued were fewer than the maximum of 937,500 Shares, being the cap included in the Option Agreement, as the Company's 10-day VWAP of $0.344 was above the 10-day VWAP at the time of signing the Option Agreement.
About the Jackpot Lake Lithium Brine Project
USHA's Jackpot Lake Lithium Brine Project is located within Clark County, 35 kilometres northeast of Las Vegas, Nevada, and is comprised of 442 optioned and staked mineral claims that total 8,714 acres (approximately 35.3 km2).
The Project's geologic setting is similar to that of Albemarle's Silver Peak Nevada Lithium Mine, the only producing lithium mine in North America, which has operated continuously since 1966, where sediments from lithium‑rich surrounding source rocks accumulate and fill the deposit leading to a potential concentration of lithium brine due to successive evaporation and concentration events. Considering the elevated lithium concentrations identified in historic soil samples, such events could theoretically concentrate lithium as rainwater passes through these materials, developing enriched brines at depths.
The Company has permitted 2,700 metres over six holes and has commenced a maiden drill program with the goal of defining a 43-101 resource. The Project target was identified based on geophysical studies and 129 core samples collected by the USGS with an average lithium value of 175 ppm with a high of 550 ppm. Samples from the first hole of its drilling program have identified lithium is present at a grade of up to 300 ppm within ten samples collected from shallow surface soils (<442 ft). The present average grade for Albemarle's project is approximately 121 ppm.
Modelling indicates that the Project target comprises the entirety of the Company's core optioned claim block (2,800 acres; 11.3 km2) and is open in all directions for expansion. The target is shallow, predominantly above bedrock depths of 600 metres, and is approximately 450 metres thick. The total basin within which the target is situated is estimated to be approximately 10,900 acres of which the Company now controls 8,714 acres.
The Project's Qualified Professional (QP) is Michael Rosko, a professional geologist with over 30 years of experience, with extensive experience with world-class lithium brine projects including Tier 1 projects such as Galaxy's Sal de Vida Deposit, Millennial Lithium's Pasto Grandes Deposit, and Lithium America Corp's Cauchari-Olaroz Deposit.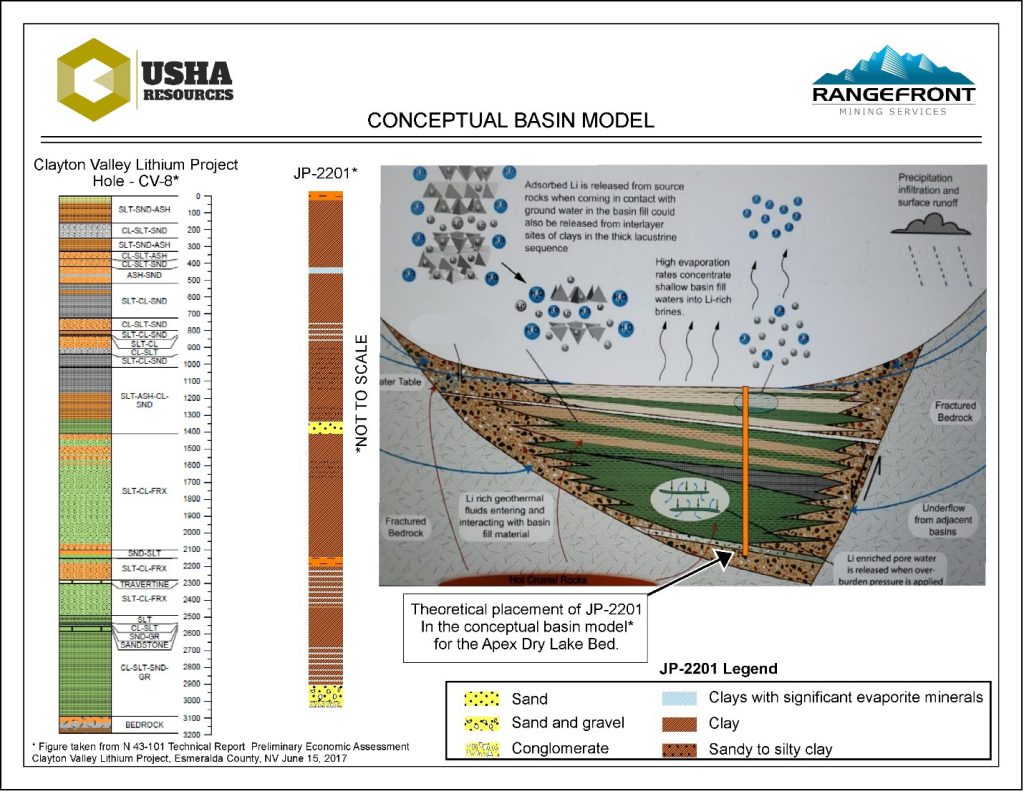 IR Agreement
The Company also announces it has entered into a service agreement with Native Ads, Inc. (the "Agreement") in connection with a digital advertising campaign, pursuant to which Native Ads, Inc. will provide the Company with services which include sponsored articles and other advertising development, ad campaign analytics and media buying and distribution services. The digital advertising campaign is planned for the 6-month term of the Agreement, or until budget exhaustion, with a total campaign budget of US$180,000. The majority of the campaign budget will be disbursed by Native Ads, Inc. in order to satisfy its obligations under the Agreement. The Company and Native Ads act at arm's length, and Native Ads has no present interest, directly or indirectly, in the Company or its securities. The appointment of Native Ads is subject to approval by the TSX Venture Exchange.
Neither TSX Venture Exchange nor its Regulation Services Provider (as that term is defined in policies of the TSX Venture Exchange) accepts responsibility for the adequacy or accuracy of this release.
Qualified Person
The technical content of this news release has been reviewed and approved by Mr. Seth Cude, P.G., CPG. RM, M.Sc., a qualified person as defined by National Instrument 43-101 Standards of Disclosure for Mineral Projects ("NI 43-101").
About Usha Resources Ltd.
Usha Resources Ltd. is a North American mineral acquisition and exploration company focused on the development of quality battery and precious metal properties that are drill-ready with high-upside and expansion potential. Based in Vancouver, BC, Usha's portfolio of strategic properties provides target-rich diversification and consist of Jackpot Lake, a lithium project in Nevada; Nicobat, a nickel‑copper‑cobalt project in Ontario; and Lost Basin, a gold-copper project in Arizona. Usha trades on the TSX Venture Exchange under the symbol USHA, the OTCQB Exchange under the symbol USHAF and the Frankfurt Stock Exchange under the symbol JO0.
USHA RESOURCES LTD.
"Deepak Varshney" CEO and Director
For more information, please call Tyler Muir, Investor Relations, at 1-888-772-2452, email tmuir@usharesources.com, or visit www.usharesources.com.
Neither TSX Venture Exchange nor its Regulation Services Provider (as that term is defined in policies of the TSX Venture Exchange) accepts responsibility for the adequacy or accuracy of this release.
Forward-looking statements:
This news release may include "forward-looking information" under applicable Canadian securities legislation. Such forward-looking information reflects management's current beliefs and are based on a number of estimates and/or assumptions made by and information currently available to the Company that, while considered reasonable, are subject to known and unknown risks, uncertainties, and other factors that may cause the actual results and future events to differ materially from those expressed or implied by such forward-looking information. Readers are cautioned that such forward-looking information are neither promises nor guarantees and are subject to known and unknown risks and uncertainties including, but not limited to, general business, economic, competitive, political and social uncertainties, uncertain and volatile equity and capital markets, lack of available capital, actual results of exploration activities, environmental risks, future prices of base and other metals, operating risks, accidents, labour issues, delays in obtaining governmental approvals and permits, and other risks in the mining industry.
The Company is presently an exploration stage company. Exploration is highly speculative in nature, involves many risks, requires substantial expenditures, and may not result in the discovery of mineral deposits that can be mined profitably. Furthermore, the Company currently has no reserves on any of its properties. As a result, there can be no assurance that such forward-looking statements will prove to be accurate, and actual results and future events could differ materially from those anticipated in such statements.
The securities referred to in this news release have not been, nor will they be, registered under the United States Securities Act of 1933, as amended, and may not be offered or sold within the United States or to, or for the account or benefit of, U.S. persons absent U.S. registration or an applicable exemption from the U.S. registration requirements.
This news release does not constitute an offer for sale of securities for sale, nor a solicitation for offers to buy any securities. Any public offering of securities in the United States must be made by means of a prospectus containing detailed information about the company and management, as well as financial statements.