Vancouver, British Columbia / October 13, 2020 – Usha Resources Ltd. ("USHA" or the "Company") (TSXV: USHA) (OTCQB: USHAF) is pleased to announce the commencement of its fully funded drilling program at its Nicobat nickel-copper-PGE project located in Dobie Township, Northwest Ontario with Asinike Drilling of Naotkamegwanning First Nation as the drilling contractor. The Property lies 21 kilometres south of New Golds' Rainy River Mine in the Rainy River Greenstone Belt that forms the southern part of the Wabigoon Subprovince.
The Property covers a lobate arm along the southwest margin of the differentiated Dobie Intrusive complex. The complex hosts a number of sulphide zones with the Nico 1 Showing Cu‐Ni mineralization the target of the current work program. Previous drilling has identified a number of 'high grade shoots' within a large body of disseminated sulphides. Historical drill hole A‐04‐15 intersected from the surface to 63.75 meters averaging of 1.05% nickel and 2.18% copper (note that the true width of A‐04‐15 is materially narrower than the drill hole intersection). The initial phase of the exploration program in October will be approximately 6 drill holes totaling an estimated 1,400 m. The drill holes are targeting below the positive results from A‐04‐15 and will further define the near-surface geometry of the plunging high-grade mineralization and test for its continuation.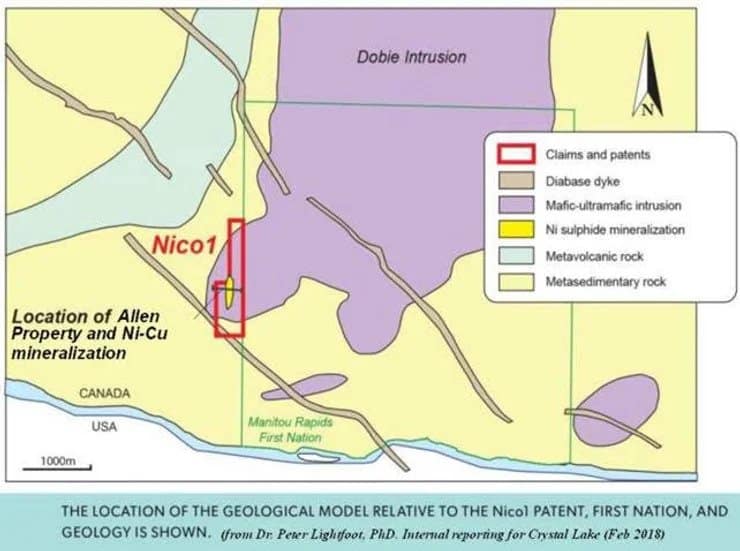 Deepak Varshney, Usha's CEO stated, "We are very excited to be able to launch our maiden drill program at the Nicobat Project. We believe the previous drilling was just scratching the surface in terms of the potential and this upcoming drill program is the first step in realizing the Nicobat Project's true potential.
"We are very fortunate that Andrew Tims will be helming this project for us.
"As an exploration geologist with over 30 years of experience, including significant time in the Kirkland Lake-Timmins and Red Lake gold camps plus the Wabigoon area of Northwest Ontario where Usha Resources' Nicobat Project is located, Andrew knows what it takes to lead a successful exploration project.
"He is a world-class geologist with proven success in the area – there is a reason why he has been part of successful teams at Cyprus Canada, Hemlo Gold Mines, and Rainy River Resources – and we could not think of a better fit to be leading this project for us."
Qualified person
The technical content of this news release has been reviewed and approved by Mr. Andrew Tims, P.Geo., a qualified person as defined by National Instrument 43-101 Standards of Disclosure for Mineral Projects ("NI 43-101").
We seek Safe Harbor.
About Usha Resources Ltd.
Usha Resources Ltd. is a Canadian mineral acquisition and exploration company based in Vancouver, BC, Canada. Usha is exploring for commercially exploitable mineral deposits and is currently focused on deposits located in Northwest Ontario, Canada and the Lost Basin Gold Mining District in Mohave County, Arizona, U.S.A.
USHA RESOURCES LTD.
"Deepak Varshney" CEO and Director
Forward-looking statements:
This press release may include forward-looking information within the meaning of Canadian securities legislation, concerning the business of the Company. Such information can generally be identified by the use of forwarding-looking wording such as "may", "expect", "estimate", "anticipate", "intend", "believe" and "continue" or the negative thereof or similar variations. Forward-looking information is based on certain key expectations and assumptions made by the management of the Company. Although the Company believes that the expectations and assumptions on which such forward-looking information is based on are reasonable, undue reliance should not be placed on the forward-looking information because the Company can give no assurance that they will prove to be correct. Forward-looking statements contained in this press release are made as of the date of this press release. The Company disclaims any intent or obligation to update publicly any forward-looking information, whether as a result of new information, future events or results or otherwise, other than as required by applicable securities laws. Neither TSX Venture Exchange nor its Regulation Services Provider (as that term is defined in policies of the TSX Venture Exchange) accepts responsibility for the adequacy or accuracy of this release.